ATTENTION: Some drop box locations have changed since the previous election. Please check the list below to find the current drop boxes nearest you.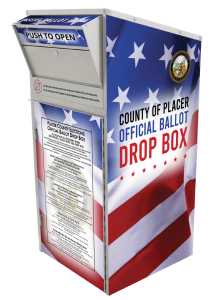 Drop box locations will be open from February 5 through Election Day, March 5. The majority are located outside and available 24 hours a day. A few are inside buildings and only available during business hours.
Voted ballots must be received at drop boxes by 8:00 PM on March 5, without exception.
If you are dropping off your voted ballot at a library location, please do not use the library book return slot.
City
Location Name
Address
Hours
Auburn
Auburn City Clerk's Office
1225 Lincoln Wy.
24 / 7
Placer County FAB Building
2956 Richardson Dr.
24 / 7
Drive Up
Colfax
Colfax City Clerk's Office
33 S. Main St.
Mon – Thurs
8 AM – 5 PM
Colfax Library
10 W Church St.
24 / 7
Foresthill
Veterans Memorial Hall
24601 Harrison St.
24 / 7
Granite Bay
Granite Bay Library
6475 Douglas Blvd.
24 / 7
Kings Beach
Kings Beach Library
301 Secline St.
24 / 7
Lincoln
Lincoln City Clerk's Office
600 6th St.
24 / 7
Sun City Lincoln Hills
Orchard Creek Parking Lot
965 Orchard Creek Ln.
24 / 7
Sun City Lincoln Hills
Orchard Creek Lodge
965 Orchard Creek Ln.
Mon – Fri
8 AM – 5 PM
Loomis
Loomis Town Clerk's Office
3665 Taylor Rd.
24 / 7
Olympic Valley
Olympic Valley
Public Service District
305 Olympic Valley Rd.
24 / 7
Tahoe City
The Old Firehouse
300 N Lake Blvd.
24 / 7
Rocklin
Destiny Community Center
6850 Five Star Blvd.
24 / 7
Placer County Clerk-Recorder-Elections Office
3715 Atherton Rd.
24 / 7
Drive Up
Rocklin City Clerk's Office
3970 Rocklin Rd.
24 / 7
Rocklin Library
4890 Granite Dr.
24 / 7
Sierra College
5100 Rocklin Rd.
24 / 7
Veterans Services Office
1000 Sunset Blvd.
Suite 115
Mon – Thurs
8 AM – 5 PM
Fri 8 AM – 12 PM
Whitney Ranch
The Ranch House
851 Old Ranch House Rd.
24 / 7
Drive Up
Roseville
Maidu Library
1530 Maidu Dr.
24 / 7
Martha Riley Library
1501 Pleasant Grove Blvd.
24 / 7
Nugget Markets
1509 Blue Oaks Blvd.
Every Day
6 AM – 10 PM
Nugget Markets
771 Pleasant Grove Blvd.
Every Day
6 AM – 10 PM
Roseville City Clerk's Office
311 Vernon St.
24 / 7
Roseville Downtown Library
225 Taylor St.
24 / 7
Santucci Justice Center
Revenue Services
10810 Justice Center Dr.
24 / 7